Susan has mad skills.  She dyes these
sock blanks
 in beautiful colors.  I've had this sock blank for 4 months.  I casted on a pair of socks on my birthday (November 9) on size 0 needles.  This what they look like this morning.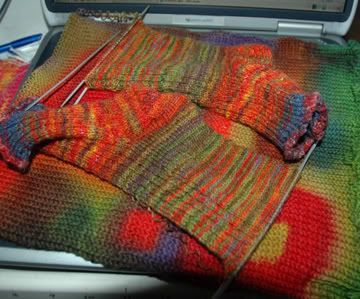 Since my last post, I think I've knitted an inch on them.  They were taken off their circular needle so that I could use the circ on a shawl. Actually, I find it easier without the circular needle to knit them.  I just need a few more size 0 needles.   If you look at what is in my hands in this picture, you will see I am knitting on these socks.  
That sleeping dude on my lap? That is my son.  He was all tuckered out from bailing the 4" of water that flooded our basement.  The pressure tank sprung a leak and we spent hours bailing water out in 5 gallon bucket increments.  It's an old basement, with no drain.