This bag was a comission from a customer who requested a bag large enough to fit her 25" square needlepoint. Her requests were that it was big, and had lots of pockets.
My design was a divided bag, with sets of patch pockets that were divided into sections. The outer fabrics are a wide-wale cordouroy and a quilter's cotton in an oriental design. Inside, the quilter's cotton is the patch pockets sewn to a dark navy quilted fabric. There are 6 sets of patch pockets, each being about 20" wide and 10" high. I sewed channels for things like patterns, scissors, pens, pencils and stuff.
There are 3 outside pockets that are sewn of the oriental fabric also. They are all large enough to carry full-sized magazines. There is 2 carrying options: Large handles on the top and one strap on the side. The side strap has a buckle and a ring to make the strap longer or shorter. Since there is that side strap, I had to put a zippered cover over the top of the bag to make sure that items don't fall out.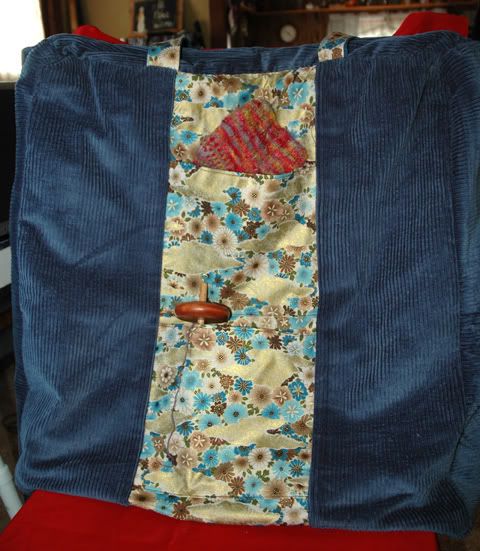 one side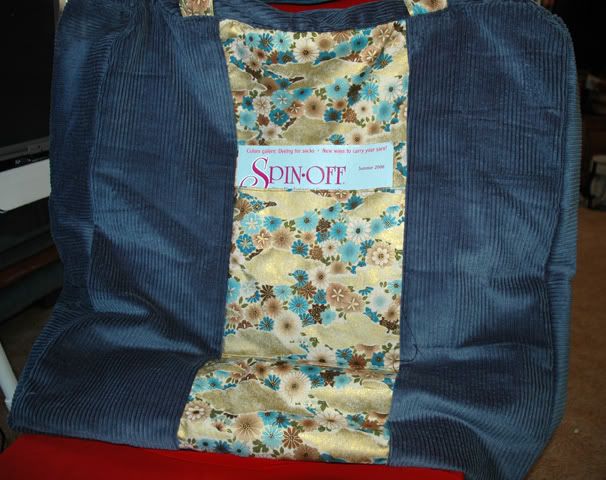 second side, that is a full-sized magazine in the pocket

The zippered top.
The inside showing the divider and pockets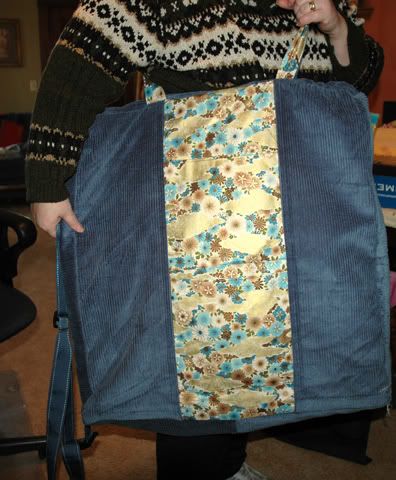 carrying it right side up. For reference, I am 5'6". It covers me from armpit to calves.